Before we quit eating sugar in 2007, my husband and I used to LOVE getting Mayan Mochas at Chuao Chocolatier in San Diego. This hot chocolate hits the same spot, but without feeling terrible from eating lots of sugar. Try it and let me know what you think! 🙂
What you need:
500 ml milk or milk alternative (for example almond milk or coconut milk)
1/3 chili fruit, thinly sliced
2 tbsp xylitol (birch sugar), or stevia to taste
2 tbsp cocoa powder
What you do:
Warm the milk together with chili and xylitol on the stove. Add cocoa and stir. Strain the hot chocolate and top with lightly whipped cream (optional).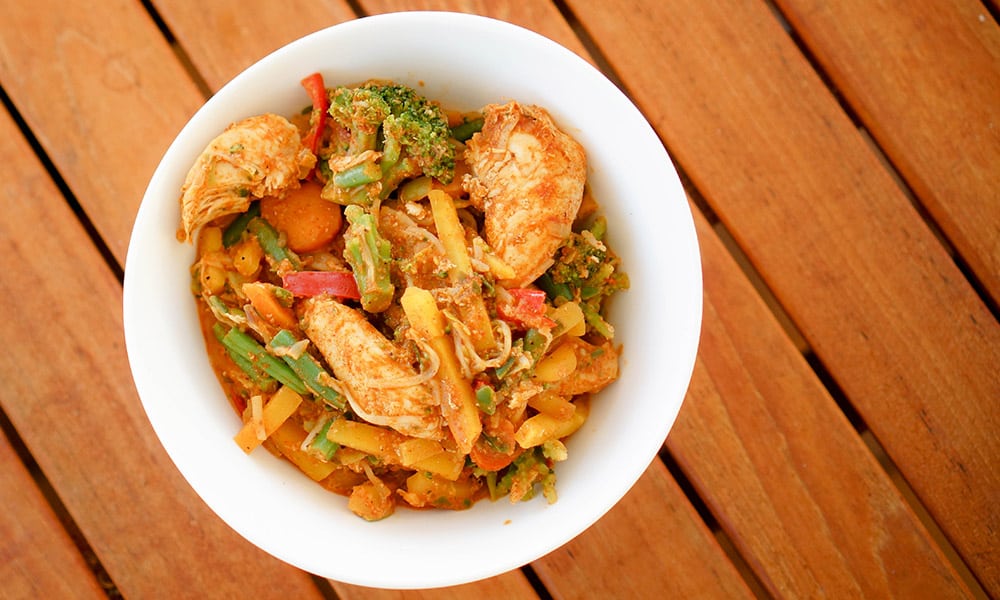 Coconut curry can be made in a multitude of ways.
What you need:
shredded cabbage, chopped onion, cubed zucchini, and shredded carrots
OR frozen stir-fry vegetable mix (not AS good but faster)
protein (chicken, fish, shrimp, or lentils)
coconut milk
curry seasoning or curry paste (green or red, doesn't matter)
salt
How to make it:
Fry the vegetables in coconut oil on the stove and add your choice of protein. Add a can of coconut milk and lots of curry seasoning. Add some salt to taste.