Eat Less Sugar: Dare to Be Sugar Free
We're eating more sugar than our bodies can handle, but we can change that.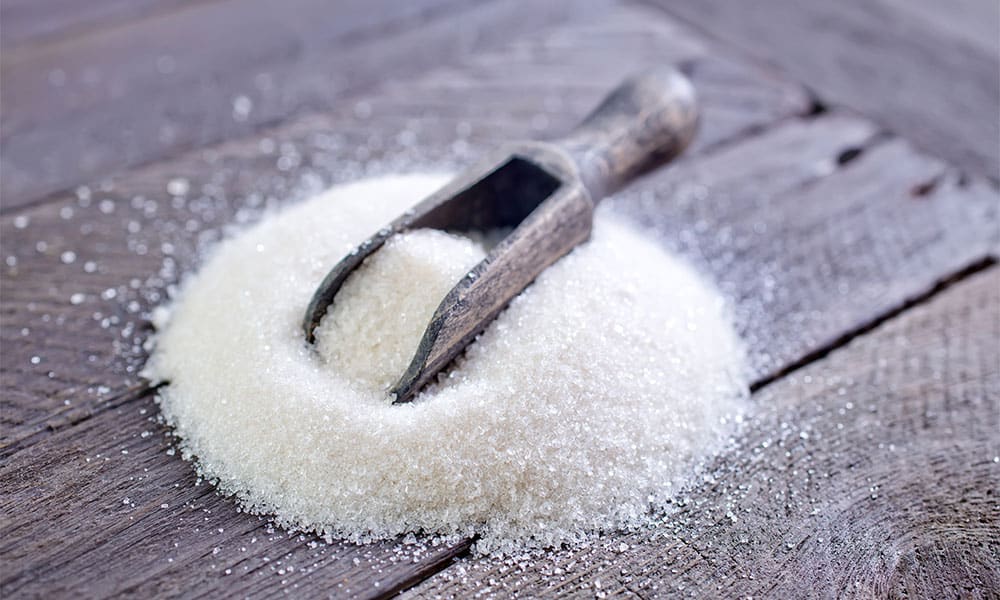 The problem: Sugar overload. We are eating 40-80kg (88-176 lbs) of added sugar every year. That is 4-8 times more sugar than our bodies can handle!!

World Health Organization, American Heart Association and SugarScience recommend a cut to max 5% added sugar. What does that really mean? To get down to those numbers we will need to cut our sugar consumption in half, and then half, and for some, half again. This will bring us back to the 10 kg (22 lbs) added sugar that we ate 100 years ago and the 5% of caloric value recommended by World Health Organization.
What is sugar?
First we need to define what sugar is. What we really are eating too much of is glucose and fructose. Glucose is the main form of sugar that our body uses. Fructose needs to be turned into glucose by the liver. The white table sugar we normally think of as sugar is called sucrose, which is half fructose and half glucose. These simple sugars are being put into almost every product on the shelf, organic products included, and under a variety of names.
Glucose – The simple sugar that our body basically runs on. Our bodies can get glucose from what we eat, even vegetables and proteins. The problem with glucose is too much and too much at one time, so when it's added to what we eat, it easily becomes too much.
Fructose – Found in varying amounts in fruit. This sugar needs to be converted in the liver to be used by the body. Too much overloads the liver and is toxic to the body. Again the problem is too much and too much at one time.
Sucrose (sugar) – this is standard white table sugar. It's actually a combination of glucose and fructose. Both of the above are true for sucrose. Again the problem is too much and too much at one time. Our bodies do not need added sugar since sugar is already found naturally in both vegetables, berries and fruits.
Most common names of sugar:
sugar
glucose
fructose
sucrose
HFCS (high fructose corn syrup)
honey*
agave syrup*
coconut sugar or nectar*
dextrose
fruit sugar
maple syrup*
molasses*
yacon syrup*
maltodextrin (technically not a sugar, but is the fastest carbohydrate available and acts like sugar in the body)
* These are healthier alternatives to sugar, but they still are sugar (70-98% glucose/fructose). These are still a blend of glucose, sucrose and fructose. The problem with these "better" sugars is that we don't just need healthier sugars, we need to make a dramatic change in decreasing the amount of sugar we are eating, which includes all of these.
Not only these, but some carbohydrates (fast carbs) act like sugar in the body. They create a blood sugar high, which then crashes, like after eating sugar. Fast carbs provide little or no nutrition, are a sugar stress on your body, and can make you more hungry. Focusing on eating more vegetables is a simple solution! Ever heard of cauliflower rice, black bean pasta, or zucchini lasagna? Learn more in the Balance36 Program.
Sugar & your immune system
Both our diet and stress level affect our immune system more than we know. Vitamin C is a powerful antioxidant that strengthens the immune system. Both sugar and stress prevent vitamin C absorption.
Vitamin C and glucose use the same pathway to come up into the cells but glucose is the stronger one and comes in first. As long as you eat a lot of sugar or fast carbs, it will be glucose that gets first priority and vitamin C gets to wait for its turn.
When you're stressed, the stress hormone cortisol triggers more glucose to be released into the blood stream, which in turn makes it more difficult for the body to absorb vitamin C. If your body has a difficult time absorbing vitamin C, it will lead to a weakened immune system.
Sugar doesn't kill and doesn't diminish the white blood cells in the body, but sugar does makes them weaker and they can therefore not handle infections and virus in the same way as they should.
There are studies showing that sugar intake affects your immune system many hours, even days after consumption. Is it worth it? Is it worth those pieces of candy or that soda to get a higher risk of getting sick? And not just a higher risk of getting sick in the future. High sugar intake does increase the risk of a lot of modern disease, but sadly many people don't want to think that far with their health. But we're also talking today, every day, every week. Is it worth that sugar to have higher risk of getting sick right now?
What's so positive is that there are so many good alternatives! For example, start using xylitol when you bake, and choose dark sugar free chocolate next time you're craving chocolate, instead of normal dark chocolate that still contains around 30% added sugar, even if it's being marketed as healthy.
Sugar and oxidative stress
Sugar increases the amount of oxidative stress on your body. Sugar causes stress in the body and stress causes sugar cravings. More on the connection between sugar and stress in step 3 of the Balance36 program.
What you will learn in the 1st step of the Balance36 program:
1. Why you want to make the change.
2. What change to make.
– Eat less sugar.
– Eat less fart carbohydrates.
– Switch to real natural sugar alternatives.
3. How to make the change.
– Be prepared.
– Make sugar free desserts.
– Prevent sugar cravings.
– Deal with sugar cravings.
– Eating out – what to think about.

The Dark Chocolate Diet
The fun not-a-diet that focuses on what you get to enjoy, sets you free from sugar and teaches you to control your blood sugar levels.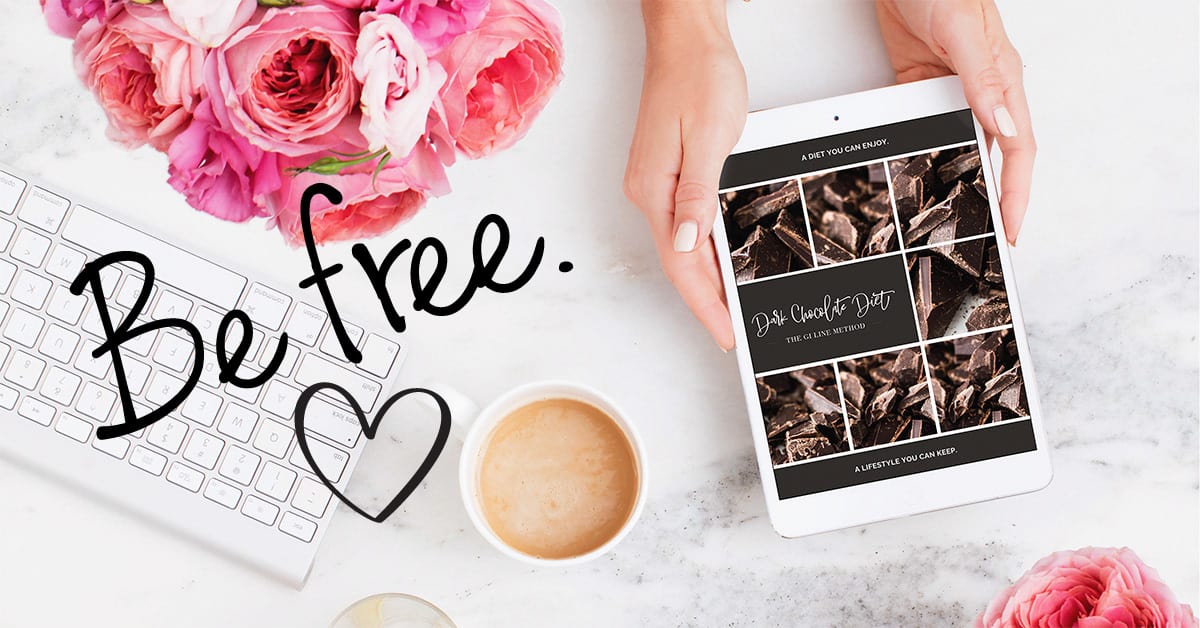 When I started as a nutritional counselor I had a 100% success rate with my weight loss clients. I thought I had figured it all out… If I could keep your blood sugar stable until the end of the day, you win – as in lose the weight, beat the cravings, stop the snacking – win.
In part that's still the program I walk my clients through, but now I know that it's more about you than the method.
You have your own life, with your own history, your own struggles, and your own body. Very few things are ever simple and when things don't work like they are "supposed to," then somehow the blame seems to land on you. Let me be very clear about this – you are not the problem.
I designed the Dark Chocolate Diet to be everything that dieting isn't.
The Dark Chocolate Diet focuses more on what to eat rather than what not to eat.
When I first took charge of my own health, sugar-free dark chocolate was one of the tools I used to do so without falling into the same traps I did in the past – without failing, again. I took joy in what I was moving towards rather than what I was walking away from.
When I learned to focus on eating the right things for breakfast, I realized I didn't have to struggle so much with lunch, dinner, or anything after that.
When I began focusing on what I get to eat rather than on limitations, my journey towards a lifestyle of health became fun.
The Dark Chocolate Diet is a program focused on fun, on joy, on hope. It's a lifestyle with the right tools to keep you from failure.
There's a lot that's special about the Dark Chocolate Diet, but here's what matters. You.
If you are ready to end the sugar cravings, be done with the snacking, get out of the cycles of trying and failing again, then I want to invite you to sign up to the Dark Chocolate Diet community.
I'll see you there!