Kale Chips
Salty, crunchy, and melt in your mouth. Perfectly healthy chips that are also easy to make!
Have you ever tried kale chips? They're salty, crunchy, and also kind of melt in your mouth. Perfectly healthy chips that are also easy to make! You can season with only sea salt, or you can add different fun seasonings to "spice" things up.
Cut away the stems and then cut leaves into bite sized pieces. Place all the leaves in a bowl with water and wash thoroughly, even if they're organic. Remember, kale is one of the most heavily sprayed crops in the world so it's one of the most important foods to buy organic!
Strain and pat dry with a clean towel. Put the kale pieces in a bowl and add some olive oil. Use your hands to make sure the oils gets distributed evenly. Add sea salt and any other seasonings you may want to add – garlic, curry, chili pepper, nutritional yeast, Parmesan cheese, etc are all great! Then place the kale on an oven tray covered with parchment paper.
Bake in the oven for about 10 minutes on 175°C (350°F), until the edges brown but are not burnt.
Enjoy! 🙂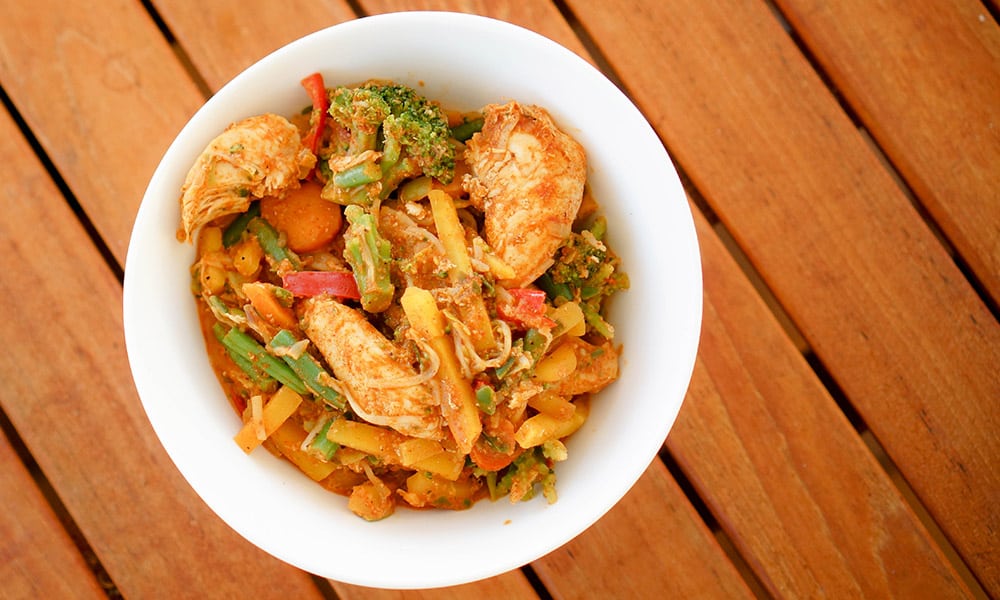 Coconut curry can be made in a multitude of ways.
What you need:
shredded cabbage, chopped onion, cubed zucchini, and shredded carrots
OR frozen stir-fry vegetable mix (not AS good but faster)
protein (chicken, fish, shrimp, or lentils)
coconut milk
curry seasoning or curry paste (green or red, doesn't matter)
salt
How to make it:
Fry the vegetables in coconut oil on the stove and add your choice of protein. Add a can of coconut milk and lots of curry seasoning. Add some salt to taste.