If you've boiled or steamed an artichoke and eaten the leaves, you'll be left with the heart, at the center of the artichoke. Probably the most common way to use artichoke heart is in spinach and artichoke dip. Now you can buy artichoke hearts in some stores, but they're usually in sunflower oil or other unhealthy oils, so I personally avoid buying ready made artichoke hearts. But if you can't buy whole artichokes and you want to make an artichoke heart dip, then make sure to check what marinade the artichoke hearts come in, and rinse the hearts from any oils they may be in (unless it's olive oil, but I doubt it).
A lot of artichoke and spinach dips use cheese and a lot of other ingredients, making it a bit more complicated to make. But it really doesn't have to be that complex! I made this spinach artichoke dip with only 6 ingredients, and it was absolutely amazing! 🙂
What you need:
artichoke heart
frozen spinach (fresh prob works too)
yellow onion
coconut milk
salt and pepper
How to make it:
Finely chop up some onion and sauté in coconut oil on medium heat. Add the frozen spinach, and once defrosted, add the artichoke hearts and mash it all up together. Add enough coconut milk to make a good, thick dip consistency. Season with salt and pepper, and now you're done!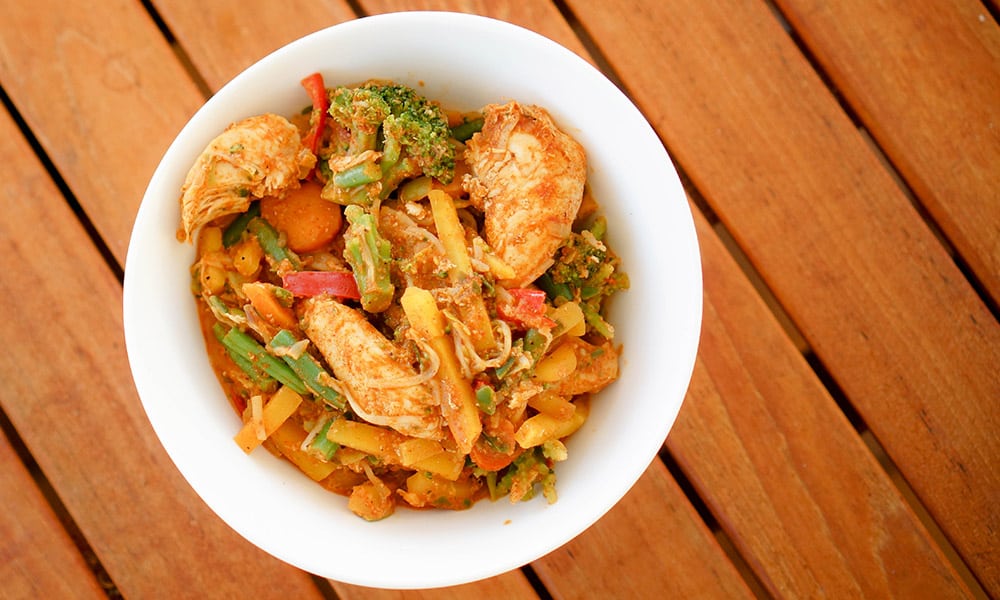 Coconut curry can be made in a multitude of ways.
What you need:
shredded cabbage, chopped onion, cubed zucchini, and shredded carrots
OR frozen stir-fry vegetable mix (not AS good but faster)
protein (chicken, fish, shrimp, or lentils)
coconut milk
curry seasoning or curry paste (green or red, doesn't matter)
salt
How to make it:
Fry the vegetables in coconut oil on the stove and add your choice of protein. Add a can of coconut milk and lots of curry seasoning. Add some salt to taste.