The Ultimate Warm Cabbage Salad
The combination of these vegetables with the pomegranate seeds is absolutely incredible!
Remember the story I shared with you about how I used to not like Brussels sprouts until just a few years ago? This is THE salad I was telling you guys about!! Are you excited? You SHOULD be!!!
I was going to share this recipe with you during the first week of the Real Food Basics since that was all about Brussels sprouts, but I decided to wait until now, week 4, since this recipe actually contains everything from week 1 to week 4…Brussels sprouts, pomegranate seeds, kale, and red cabbage…but here it is…I can finally tell you about this ridiculously awesome warm cabbage salad that made me finally like Brussels sprouts after over 20 years of not liking them.
The combination of these vegetables with the pomegranate seeds is honestly incredible; the flavor is so full and so delicious that I started going crazy about Brussels sprouts once I had tried this salad!
The first time my sister made this, she also added organic bacon pieces and Parmesan cheese on top, and while those additions taste great together, they're not needed, so I'm choosing to just mention them here and you can add them or not, it's up to you. The salad is delicious by itself!! In Sweden, it's also really hard to find organic bacon without nitrates, so I usually just skip it for that reason, but if you find good bacon without sugar and nitrates and want to add it to the salad, then go for it! 🙂
What you need:
Brussels sprouts
Kale

​

​

Red Cabbage
Pomegranate seeds
How you make it:
Cut the Brussels sprouts in half or quarters.
Cut off the hard stems from the kale and cut leaves into smaller pieces.
Slice the red cabbage thinly.
Get the pomegranate seeds out of the pomegranate. (Or defrost frozen pomegranate seeds)
In a warm skillet, start by frying the kale in coconut oil. Once the kale has started shrinking down a bit, add the Brussels sprouts and red cabbage.
You don't want to cook everything too long so it gets mushy. I usually use medium-high temperature and fry for about 10 min, until the Brussels sprouts start getting a little color.
Add the pomegranate seeds on top, and voilà

​

, it's done! You can add bacon and Parmesan cheese on top if you want, or just eat it as a side to any meal.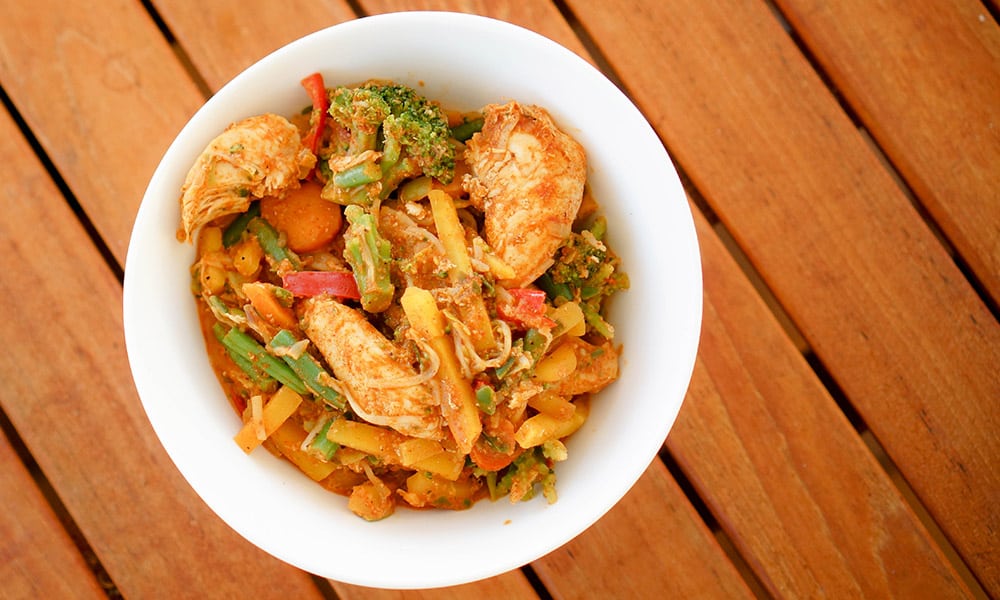 Coconut curry can be made in a multitude of ways.
What you need:
shredded cabbage, chopped onion, cubed zucchini, and shredded carrots
OR frozen stir-fry vegetable mix (not AS good but faster)
protein (chicken, fish, shrimp, or lentils)
coconut milk
curry seasoning or curry paste (green or red, doesn't matter)
salt
How to make it:
Fry the vegetables in coconut oil on the stove and add your choice of protein. Add a can of coconut milk and lots of curry seasoning. Add some salt to taste.