My husband and I travel a lot.
It's mostly for business, and we usually enjoy it, but what we don't enjoy are the hotels. Bleach cleaners, mold, carpeting, polyester (plastic) sheets, old pillows. It's a toxic load neither of us want on our bodies and neither of us look forward to. It's one of the pieces of our own journey that led us to start Healthy Vacation Club, but we've had to learn how to cope with what's available until we can cover the world with healthy vacation homes and hotels.
What do we do?
1. We choose better hotels.
We've tried a lot of hotels, unfortunately. We've been to highly rated resorts that had been soaked in bleach and large brand hotels covered in mold. Don't be afraid to walk away, there are always more hotels. In our experience, we've always gotten our money back… even if it one time took 6 months and multiple calls.
Our main hotel has ended up being Hilton, basically because we've had the fewest problems there. Not surprisingly, we recently learned that:
"Gary Collinge, general manager of the Hilton Vancouver Airport, says all Hilton hotels follow standards regarding eco-friendly cleaning solutions, including non-toxic, non-phosphate, non-chlorine and biodegradable products." – Hotelier Magazine
Apart from Hilton, we've also had pretty good luck with Hyatt and Marriott. Of course, they're all far from perfect, and I wouldn't call any of them "healthy", but they are doing some good things that make it a bit easier for us to stay there compared to other hotels. I would love the opportunity to work with any of them to start pushing the hotel industry to a place more focused on wellness. For us, it's not about competing, it's about making change happen quickly in the vacation industry.
I still don't love the chemicals, carpets, VOCs, polyester sheets, and chlorinated water, but at least my thyroid isn't being attacked by chlorine bleach cleaners. And since I have Hashimoto's, that's important for me.
2. We cook our own food.
For longer stays we'll book with a resort or long-term stay hotels that have a kitchen. They'll often have stainless steel pans, but we usually pack small pan and wooden spatula just in case they only have Teflon pans and plastic spatulas. If we can drive to the hotel, then we always bring our Instant Pot Mini, regardless of if the hotel has a kitchen or not. We do always make sure we have a fridge in the room. Hilton has been good about being able to bring a fridge up to the room if there is none to begin with.
We also make sure we know where we're going to buy food. That means, depending on which State we're in, we look for a Sprout's, Lucky's Market, or Whole Foods, and pick a hotel in that area of the city. We book as close as possible to the event we're attending, but for larger conferences like Natural Products Expo West, in LA, where we usually need to book a hotel that's 5-7 miles from the event, we'll pick the one that puts a Sprouts on our way to the hotel.
3. We bring our own air filter.
I like the Air Oasis filters. In addition to getting rid of the dust that many times is attached to flame retardants and other chemicals, the Air Oasis can also break up VOCs. Basically, ripping apart toxic chemicals into their base elements.
If we're flying, we bring the travel-sized Air Oasis and if by car, we usually bring our Air Oasis 1000. Either way it's the first thing we set up and turn on after checking in to the hotel.
4. We bring castile soap.
It's something simple, but we don't want to use scented hand soaps, body soaps, and dish soap (if we have a kitchen). Instead, we have a travel sized bottle of castile soap with us and use it for everything. My husband even uses it as toothpaste, but that's just gross! 😉
5. We bring PJ's and socks.
Admittedly, we're not the best at remembering PJ's, so we often improvise, but I think this one is worth mentioning. Since we're sleeping on sheets that usually are made of polyester (plastic) and have been washed in chemicals we know nothing about, we like to have something to keep our bodies from absorbing all of that. Same goes for socks. I try to have socks with me even if I won't be wearing any shoes that need socks. Being from Europe, where we don't carpet rooms, I find them disgusting. Since we don't know what powders and cleaners have been used on the carpet, we would rather protect our feet with socks.

Organic, Sustainable, Non-Toxic Vacation Homes!
Healthy Vacation Club is an alternative to other vacation properties and the bleach, toxic cleaners, chlorinated and fluoridated water, mold, EMFs, VOCs, and other toxins that often come with them.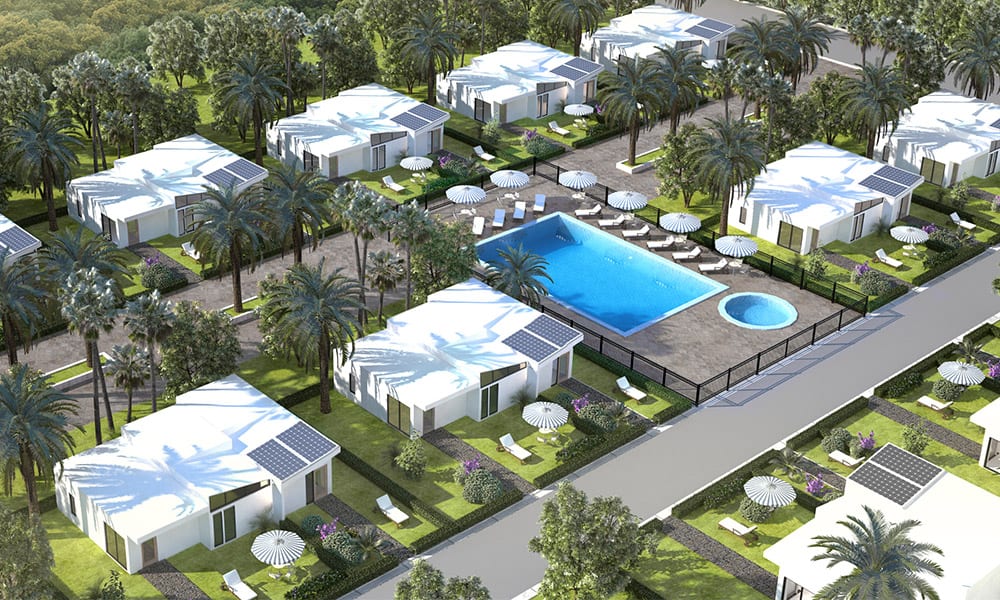 We've been hinting at this, but now it's almost here!
The Healthy Vacation Club now has its own website and we're starting to get pre-booking and information requests.
We're on course to get our first demo home built this year in Orlando. It's a big step and we're really thankful to all our partners that have been helping us make this happen.
For those who don't know me, I'm Emelie Kamp, co-founder and green living coach. In 2014 we began a journey to showcase a lifestyle of wellness with our first wellness center and now I'm thrilled to announce the Healthy Vacation Club. It's organic, non-toxic, sustainable vacationing at it's best and it's an amazing experience.
It all started because I was so sick and tired of not having a healthy place to stay during both vacations and business travel? Chlorine bleach & toxic cleaners, chlorinated & fluoridated water, mold & mildew, EMFs, VOCs, and other toxins – it totally ruins a vacation, not to mention you health. A vacation is supposed to make you healthier and I for one don't want to come home more sick than when I left!
I have an autoimmune disease and its made my body more sensitive to chemicals and molds. My eyes where opened to how much need there is and with the experience and knowledge that my husband and I have, we knew we could do something about it.
We're starting to build in Orlando, FL, close to Disney World and other amusement parks. It also has a lot of direct flights from Europe! After that we'll be listen to where you want and need to travel. We're already looking at other properties in other areas of Florida, California, Utah, and Colorado.
Healthy Vacation Club is an alternative to other vacation properties and the bleach, toxic cleaners, chlorinated and fluoridated water, mold, EMFs, VOCs, and other toxins that often come with them. Here's a few points on what you can look forward to:
• Non-toxic fitness center
• Infrared saunas
• Chloramine-free pool
• Non-toxic beds with organic sheets
• Carpet-free floors
• Kitchen with wooden cutting boards and stainless-steel pots and pans
• Filtered air and water
• Lower EMF's
• Zero VOC wall paint
You can find more information about Healthy Vacation Club at www.healthyvacationclub.com.
Your Home Shouldn't Make You Sick
According to the EPA, the air inside our homes is two to five times more toxic than the air outdoors.
The Healthy Home Project
I'm passionate about healthy homes. Part of living with Hashimoto's, an autoimmune disease of the thyroid, means that I've gotten more sensitive to chemicals, molds, and other toxins that are common in most homes.
According to the EPA, the air inside our homes is two to five times more toxic than the air outdoors.
Even though I had worked in the wellness industry for years, and already ate organic and had a plastic-free kitchen, my journey was only at its beginning. Being a nutritional counselor and health coach, I knew that I wasn't just taking this journey for myself, but for each one of you who's health is being attacked in the "safety" of your own home.
Here are a few of the topics we will be looking at in the #HealthyHome program.
Mold

Dismissed by many, there are few studies on the health effects of mold. Newer studies and testimonies are saying that we need to look deeper.

Water

Purified water is good, but it's just the beginning.

Cleaners

Why would anyone use a cleaner that would leave their home more toxic than before they began cleaning?

Bedding

Some of the beds marketed as the healthiest can actually cause a lot of problems for some individuals.

Plastics

We need to know more about hormone & endocrine disruptors like BPA and phthalates in plastics. Not to just know what damaging effects they have on their own, but their effect combined with all of the other toxins we are exposed to.

Air

It's more than dust. The real problems may be the chemicals we have created.

Fire Retardants

Are they saving lives or destroying lives? The jurey is still out and the answer is really important.

EMFs

EMFs are Electromagnetic Fields created by all electric and wireless devices. There is a lot more research to do for assessing their effect on human health.

Toxins

…there is so much more we need to look into with glues, paints, building materials, furniture, and so much more.
Why a Healthy Home?
Healthy Homes Bring the Best of Nature Back Into the Home.
"Having Hashimoto's, an autoimmune thyroid disease, has made my body more sensitive to chemicals and molds. I've realized how much need there is and know we can do something about it." – Emelie Kamp
What are Healthy Homes?
Healthy Homes Bring the Best of Nature Back Into the Home.
The easiest way to tell you about healthy homes is to break it down into the basic elements…
Air
According to the EPA, the air inside our homes is two to five times more toxic than the air outdoors. Not in our homes. We believe it's important to remove mold spores, toxins, break down VOCs, and balance the humidity.
Water
If you have a thyroid problem, like me, then you're even more affected by chlorine in water. We believe it is important to filter all the water coming into the house and then re-filter the drinking water – making it similar to the healthiest water sources on earth.
Earth & Electricity
When it comes to frequencies, grounding, and EMFs, there is enough evidence to say that we need to pay attention. We believe it's important to minimize EMFs and ground both you and the house as much as possible.
How You Can Have a Healthy Home
While the move toward greener sustainable houses is booming, the move towards healthier homes is just beginning. It's a challenge, requiring a deep understanding of both health and homes, but we have a pretty extraordinary team that can help you do just that!
What we look at:
Clean air & water with double-filtered drinking water
Furniture without flame retardants and other toxins
Plastic free kitchen
Natural beds with organic cotton or linen sheets
Non-toxic products
Emelie is a Wellness Coach, Green Living Coach, and Licensed Nutritional Counselor. She has also managed the development of multiple single-family and multi-family homes.