What you need:
1.5 tsp matcha tea powder
1 tbsp hot water – not boiling
250 ml milk/almond milk (or 125 ml water and 125 ml full fat coconut milk)
Sweetener (optional): xylitol or stevia extract after taste
What to do:
Put matcha tea powder in a cup. Pour the hot water and whisk until no lumps are left. The result should be smooth and foamy. (I use a small electric milk foamer to whisk it together).
Warm the milk on the stove on medium heat, but don't let the milk come to a boil. Foam the milk with a milk foamer. If you don't have a milk foamer you can skip this stage.
Pour the warm, foamy milk into the cup. Sweeten with a few drops of liquid stevia extract or a little xylitol, or enjoy it unsweetened. 🙂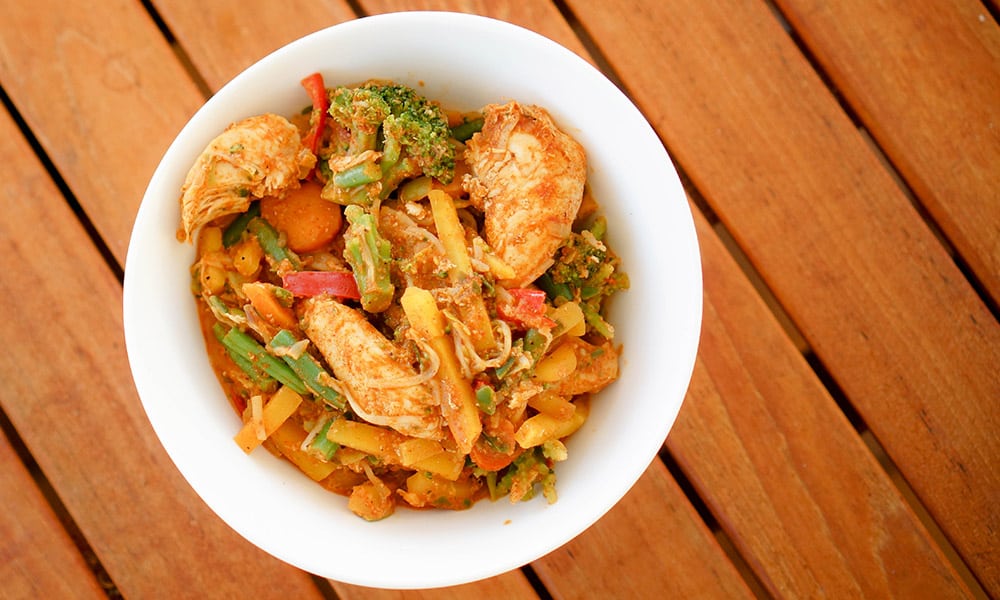 Coconut curry can be made in a multitude of ways.
What you need:
shredded cabbage, chopped onion, cubed zucchini, and shredded carrots
OR frozen stir-fry vegetable mix (not AS good but faster)
protein (chicken, fish, shrimp, or lentils)
coconut milk
curry seasoning or curry paste (green or red, doesn't matter)
salt
How to make it:
Fry the vegetables in coconut oil on the stove and add your choice of protein. Add a can of coconut milk and lots of curry seasoning. Add some salt to taste.