Chocolate Mousse with Avocado
Chocolate mousse has got to be one of my favorites, because it's so simple to make and so delicious to eat! But we all know that too much sugar is one of the biggest problems in today's society, causing a huge rise in sickness and disease. A lot of people are even addicted to sugar, which is not so strange since sugar has been shown to even be more addictive than cocaine! I used to be addicted to sugar, which is why I decided to quit sugar summer 2007. But just because you don't eat sugar, doesn't mean you can never enjoy delicious desserts every once in a while. This chocolate mousse has a lot of nutrients and good fat and is super easy to make!
What you need:
1 avocado
1/4 banana
cocoa powder
coconut milk
sea salt
liquid stevia (optional)
How you make it:
Mash together all the ingredients using an immersion blender or mixer. Start with one avocado and about 1/4 banana as base. Add about 1 tbsp coconut milk, just enough to be able to mix everything together without making it too runny, and add desired amount of cocoa powder. Maybe start with 1 tbsp cocoa powder and add more for darker chocolate flavor. Add a touch of sea salt and a few drops of liquid stevia until desired sweetness. If you don't want to use stevia you can add a bit of extra banana if you want it sweeter.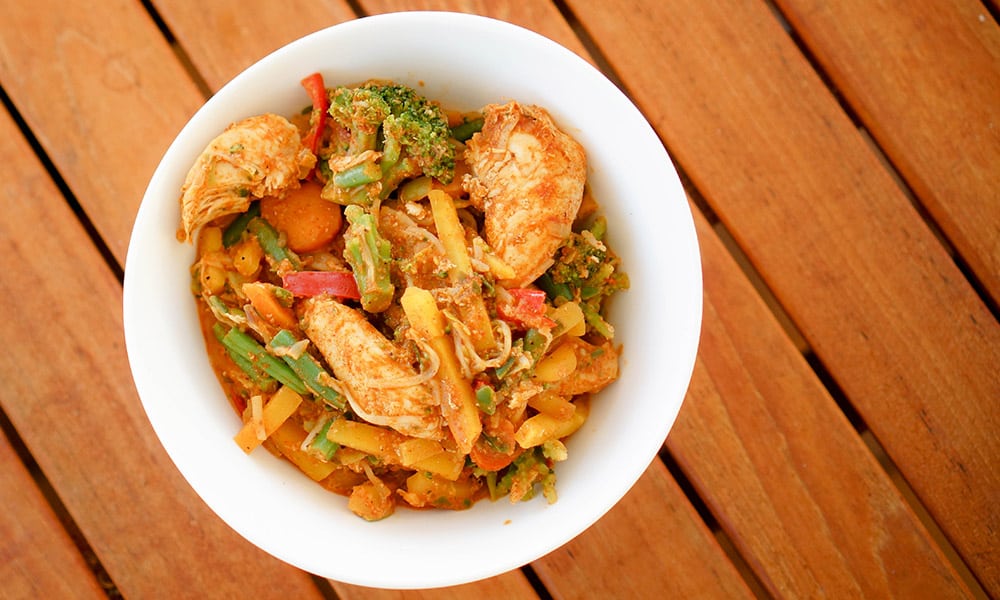 Coconut curry can be made in a multitude of ways.
What you need:
shredded cabbage, chopped onion, cubed zucchini, and shredded carrots
OR frozen stir-fry vegetable mix (not AS good but faster)
protein (chicken, fish, shrimp, or lentils)
coconut milk
curry seasoning or curry paste (green or red, doesn't matter)
salt
How to make it:
Fry the vegetables in coconut oil on the stove and add your choice of protein. Add a can of coconut milk and lots of curry seasoning. Add some salt to taste.